Django user registration: Sample django-registation templates and demo code using Bootstrap 3.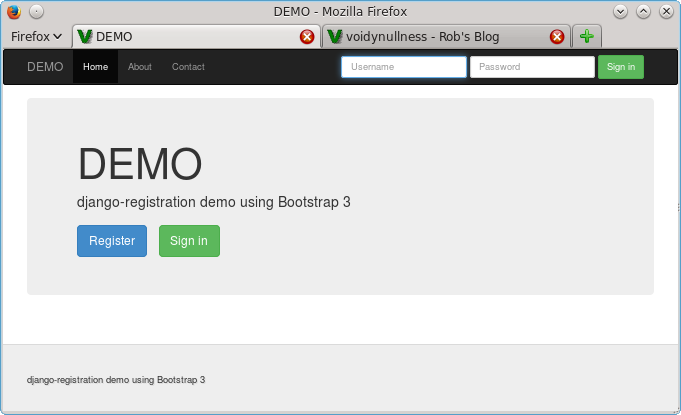 Psst!
Hey you.
Yes, you, the one staring at their screen with a unique combination of confusion, surprise and frustration. I'm guessing this is the first time you're trying to create a Django website with user sign up and log in capabilities?
Yeah I know, Django makes doing lots of fairly complex/tedious things far less complex/tedious. But sometimes implementing common website functionality that you'd think should be easy and straightforward isn't so much. But hey, that's pretty much always going to be the case with any heavyweight framework.
As always, be sure to keep in mind that despite moments of confusion or frustration with the Django learning curve, at least it's not PHP. So there's that.
So yes, Django has user authentication built in, and you get a nice admin interface for free if you want it, but none of that is going to help you much with user sign up, as such. You'll either have to roll your own solution on top of the bits Django does provide, or use one of many external packages, each with their unique combination of advantages and disadvantages.
The closest thing to a "standard" way to provide user sign up is django-registration. This only does local sign up (i.e. based on username/email). If you want log in via social media accounts, that's a whole other thing.
But if all you need/want is local sign up, django-registration will get the job done. After a bit of fiddling. Including creating your own templates.
No, I don't know why it doesn't provide sample templates either.
Well, OK, so this is something where there isn't likely to be one-size-fits-all approach that will work for everyone. Different websites are likely to want different approaches, hence the different possible registration backends. Not to mention front end differences. Not just appearance, but also differences in front-end frameworks, and any specific django template libraries used within the project.
But sure, having at least some working sample code can be a useful starting point to see how it's done, even if you might have to do things differently for your purposes. So here are some pointers and examples that might be useful if you're trying to get your head around the whole process.